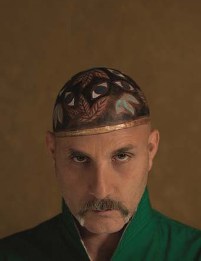 Roger Moukarzel
Roger Moukarzel is an internationally published documentary and fashion photographer. Born in Beirut in 1962, Moukarzel's interest in war photography began when he was a teenager. For fifteen years, he worked for news agencies Sygma and Reuters, photographing the essence of combat and the resilience of humanity under the harshest circumstances.
Moukarzel's photo-documentaries have been featured in many international publications. France's legendary Paris Match printed one of his photographs – a scene of destruction and mayhem on a Beirut street – on the cover of its 40th anniversary issue.
Years spent documenting turmoil and disaster took a mental and physical toll on Moukarzel. He eventually shifted to fashion photography, a more glamorous (and less dangerous) field. In his own words, he explains: "A shift from scenes of death… to scenes of life A shift from the ugly face of war… to that of beauty A shift from shooting the infamous… to shooting the famous." Moukarzel's personal work has been showcased in over 15 exhibitions worldwide. His body of work is his mission and his pictures are his messages.
He lives in Beirut with his wife and daughters.
Bibliography
Creative Lives – Portraits of Lebanese Artists, Turning Point, 2009
Green Gold – The Story of Lebanese Olive Oil, Turning Point, 2007
Wadi Qadisha, Aleph, 2005
Trait Portrait, self-published, 1999