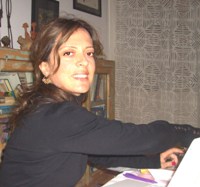 Maya Tawil
Maya graduated in visual communication & art direction from Ateliers des Beaux Arts and Academie Charpentier in Paris, France. Since 1992 she has been working as a freelance graphic designer and illustrator specializing in brand creation and re-branding. Maya has extensive experience in developing corporate identities for restaurants and retail outlets.
She adores illustrating kid's books. Her work is inspired by the authenticity, invention and naivety of children's drawings and she never ceases to marvel at the power of a child's imagination. Maya has illustrated for three Lebanese based publishing houses.
Maya likes to spend time at her family home, a traditional red roofed house in the Northern coastal town of Batroun, where she relaxes in the garden, surrounded by her chickens. Traveling is also a priority, as she considers cultural exchange, vital to the work of a designer, who needs to 'recycle ideas', to stay fresh and up to the new trends.
Bibliography
Alef ba alef ba, Yuki Press, 2004,
Tamara maa baba fi al-souk, Turning Point, 2005
Karim wa mama bi al-matbakh, Turning Point, 2005
Kiss al naylon, Dar El Elem Lil Malayin, 2006.