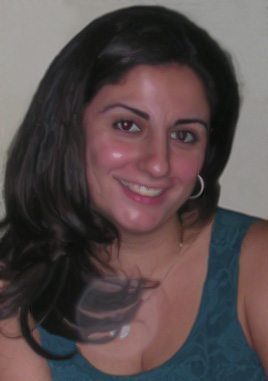 Dania El-Khatib
Dania el-Khatib was born in Beirut in 1979. Both her parents are artists & illustrators, so she has always been surrounded by color bottles, squeezed color tubes, funny brushes & great story books & comics.
Although el-Khatib studied archaeology and is still passionate about the hidden treasures buried all around Lebanon, she finds herself drifting towards her "family heritage" and surprisingly witnessed her childhood hobby (drawing of course!) grow up slowly to become a great fun profession that she now shares with her younger sister.
El-Khatib has lived through a war and as a child there were times when she really longed to laugh and to hope. So this is probably why she likes to draw funny happy characters and work on colored bright layouts all the time... after all what's better than a bright colored good laugh!
Bibliography
Elaab, Faker wa Ehzar maa Mourjan wa Mourjana, Al-Hadaek Group, 2003
Kotta wa Samaka, Asala, 2005
Douda wa Farasha, Asala, 2005
Alissa wa Leo, Habtoorland – Asala, 2005
Al Jazeera al Mansiya, Asala, 2005
Hal Ladayka Sin Sehriya?, Asala, 2006
Ana Hashara wa Ladaya Hizaa, Asala, 2007