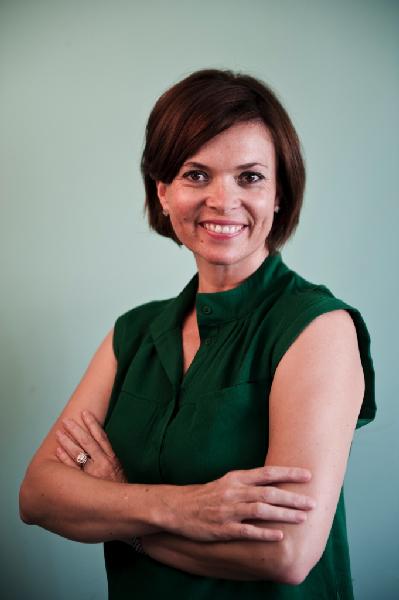 Charlotte Hamaoui
Turning Point director Charlotte Hamaoui was born in Richmond, Yorkshire, England on July 13, 1969 (one week before the first moon landing and one day before the Bastille holiday day – facts that Hamaoui says "must explain why I love France so much and why living in Beirut doesn't seem too alien").
The daughter of an officer in the British army, Hamaoui's childhood was spent on various army bases in England, Europe and Africa. A childhood bookworm, she spent much of her youth curled up on a sofa, reading. She credits teachers at boarding school in Dorset, England for encouraging and spurring her on to get accepted at Cambridge.
Hamaoui recalls that her college days "were fun. I did too much partying, but I did enough work to get me through the courses." After college, she joined a bank and worked there for just under two years.
Hamaoui met her future husband, Issam, through a mutual friend at the bank. She and the Lebanese media company owner embarked on a two-year renovation project of an abandoned farmhouse in France and in 1995, they relocated to Beirut with their two "sports-obsessed" children: seventeen -year-old Omar, and fifteen-year-old, Alia ("If Manchester United or the English Rugby team loses… it will be doom and gloom in the household for at least a week").
In 1999, Hamaoui wrote At Home in Beirut. It "was an enormous adventure and a way of gaining a better understanding of my home city. It was tremendously hard work, too, and a steep learning curve, as there were just two of us working on the research, writing and advertising. Twelve years later, with the release of a fourth edition of the guidebook, I do feel a sense of pride. What gives me the most satisfaction is being able to know that the guide provides a service to residents and a real life-line to newcomers looking for information about the city. I've enjoyed writing other guidebooks about Lebanon over the years, but At Home in Beirut has a special place in my heart."
As director and commissioning editor of Turning Point, Hamaoui is closely involved in the day-to-day activities of the company. As a writer herself, she has "great respect for the creative process" and still gets "a tremendous buzz from seeing a new product in print." "It's a great job, and one that I think would be hard to beat."
Bibliography
At Home in Beirut (fourth edition),Turning Point, 2010
At Home in Beirut (third edition), Turning Point, 2007
Map 'n Lebanon- Beirut, Turning Point, 2005
Decouvrir le Liban en Jouant, Turning Point, 2004
Play and Learn about Lebanon, Turning Point, 2004
Loisirs en Famille au Liban, Turning Point, 2003
Family Fun in Lebanon, Turning Point, 2003
At Home in Beirut (second edition), Turning Point, 2002
At Home in Beirut (first edition), Turning Point, 2000