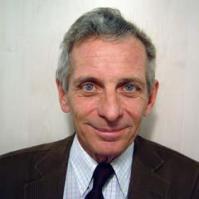 Peter Grimsditch
Journalist, editor and author Peter Grimsditch's long and varied career began with a job at his college's student publication. Years later, Grimsditch made a sharp climb though the ranks of British newspapers to become the founding editor of Britain's Daily Star, the first new national tabloid newspaper to be launched in the UK for three-quarters of a century. A year-and-a-half and more than a million copies a day later, Grimsditch was fired when the paper's management grew weary of his assessments of them.
After a spell working in newspapers in New York, Grimsditch bought a restaurant, motel and bar in Canada. A lot of laughs, lost dollars and 15 months later, he returned to Britain with the wry observation, "Never go into a business you know nothing about."
Grimsditch returned to the news in the early 1980s, after a chance meeting with the publisher of Lebanon's Daily Star. Within a few weeks he was headed for Beirut to become the paper's No. 2. He inherited the editorship some months later, when US helicopters evacuated "half the staff of the Daily Star and a fair chunk of the readership."
He ultimately made the decision to leave Beirut after a string of kidnappings of foreigners. "No one was shooting at me, but I didn't fancy being kidnapped, especially as I was never up to anything naughty anyway."
Nevertheless, the friendship that had formed between Grimsditch and the paper's publisher, Jamil Mroue, survived over the years, and in 1995 he was asked to return to the Daily Star once again. Grimsditch says, "This time I felt as though I watched every single plant being reborn in downtown Beirut. And the smiles grew bigger every day."
Grimsditch is the co-author of Life's Like That and Life's Even More Like That. He was born on the Lancashire coast of England ("on a clear day, with good binoculars, you can view the sea at Southport") and was educated at King Edward VII School in Sheffield and Oriel College, Oxford. He has been married "fewer times than most people believe" and has three children. Although divorced, he remains close with Suzanne, mother of his two older children, Samantha and Sacha. He and his current partner, Agnès ("the Mad One"), have a six-year-old daughter, Héloïse ("the Monster"). They both have a good sense of humor – a necessity, says Grimsditch, for living with him.
Bibliography

Life's Even More Like That!, Turning Point, 2007
Life's Like That!, Turning Point, 2004