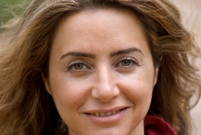 Dania El-Kadi
Dania was born in Georgia USA, but by her own admittance is a lot more "El-Kadi" than "O'Hara". Her father's career in the military also took her to Belgium as a teenager, and means that she occasionally demonstrates exaggerated respect for chains of command or inherent problems with authority. She's also been known to throw impromptu rap performances although she can't rap.
Dania wanted to be a journalist and writer in France, so it made perfect sense for her to study history at the American University of Beirut and then take up a job as a computer sales woman in Kuwait. This led to a career in technology in Lebanon and Dubai (the city she calls her soul mate) and to London where she currently lives with her husband.
Dania's short novel, Un Chemin Sur Son Front, was published in Paris by "Éditions Caractères". Her short story, Trophy Wife, was published in the "Words to Music" anthropology, a charity project by writers from around the world. She has also contributed articles to leading Arabic dailies.
Bibliography
Summer Blast, Turning Point, 2011
Un Chemin Sur Son Front, Éditions Caractères, 2000