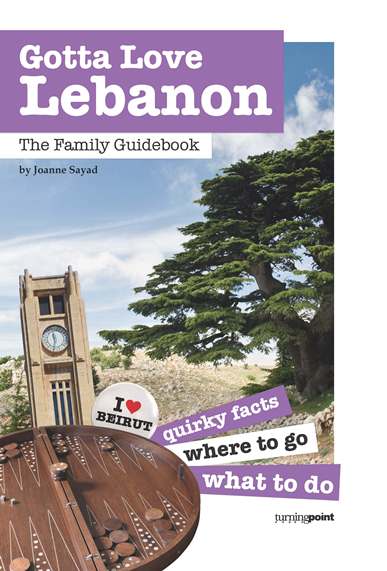 Gotta Love Lebanon
The Family Guidebook
Beirut's supposedly a great place for families, but without a cousin who knows somebody who can take you around, it's hard to find out what there is to do, never mind what's worth doing. Gotta Love Lebanon, the latest edition of Turning Point Book's popular guide series, takes on this critical dilemma with a New York attitude.

Twenty years ago, fresh off the boat from New York City, Joanne Sayad arrived in Beirut anxious to provide her children with the wealth of activities she herself had been privy to while growing up. After years of trial and error, of traipsing through dusty alleys and behind vegetable markets, the award-winning author has compiled the guide she wishes she'd had. Gotta Love Lebanon offers not only the practical, up-to-date listings one expects in a comprehensive guide but also tips on how to adopt the basic survival instinct parents really need to cut through the faouda and enjoy this cool place.
Family-friendly and written in a 'hosh-bosh' voice, Gotta Love Lebanon presents Sayad's picks in easy-to-read chapters such as "Culture Vulture", "Museums", "Public Gardens & Libraries", "Snow Sensation", "Nature", "Summer Camps", "Beach Bliss", "Amusing Parks", "Birthday Bling", "Beirut and Beyond" and "Getting the Gist of Beirut". Readers will discover – or rediscover – the best places to go and things to do with children. Readers will also appreciate the fresh and often quirky observations of the author, whose hard-won experience and intimate knowledge of the culture help take 'family fun' beyond wishful thinking and into reality.
Sayad is an honorary recipient of the Middle East Book Award as co-author of the children's book Lebanon A to Z: A Middle Eastern Mosaic. In her latest book, she reassures parents that ". . . despite Lebanon's political shifts, blunders and tsunamis, the country is more than capable of providing a joyful family life: scores of extra-curricular activities, peerless one-on-one instructors, a cultural life and nature getaways, all built upon a foundation of close, steady family ties." For many, Gotta Love Lebanon will prompt a sigh of relief.
September 2012
Softcover - 248 pp
ISBN 978-9953-0-23526
Available online from:
http://www.amazon.com/Gotta-Love-Lebanon-Family-Guidebook/dp/9953023522/ref=sr_1_1?s=books&ie=UTF8&qid=1452773784&sr=1-1&keywords=gotta+love+lebanon