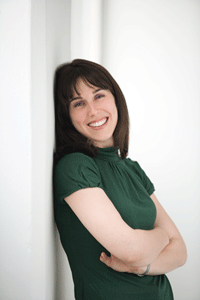 Sierra Prasada
| | | |
| --- | --- | --- |
| | | |
A childhood fondness for international adventure books, an adult's undiminished wanderlust, and a well-timed series of language learning CDs set Sierra Prasada on the path toward writing Creative Lives: Portraits of Lebanese Artists, her first book.
At age fourteen, she persuaded the New York Times to give her the phone number of its Jerusalem correspondent, then interviewed him for a project on the Arab-Israeli conflict. "As a high school student, in the midst of the endless social battles that go on everywhere, the conflict seemed oddly familiar," she says.
An avid reader, writer and actress, Sierra wrote a play several years later that claimed a national prize, but her subject remained close to home – roommates in a San Francisco apartment struggling to move forward in their lives.
After graduating from Stanford University with a degree in history, Sierra directed middle school drama and taught world history at an all-boy's college prep school on the East Coast, the most severe culture shock she has yet experienced.
Only in graduate journalism school in Chicago did her interests finally align. When she learned that she'd been accepted to intern with the Associated Press in Cairo as part of a global journalism quarter, she began studying Egyptian Arabic with the aid of the Pimsleur Language Program. "I listened to about 15 hours of lessons before I went to Cairo, which is not a lot, but I became familiar with all the sounds, and I learned to read, and – even before I ever spoke it in a natural context – I was in love."
On returning from Cairo in 2007, she moved to Washington, D.C., to work for The Chronicle of Higher Education, but soon planned another trip to the Middle East. During a brief visit to Lebanon that fall, she resolved to come back. She'd already spent a few months in Beirut when the networking equivalent of a chain reaction connected her with Turning Point Books.
When Charlotte Hamaoui asked Sierra if she'd like to write a book profiling Lebanese artists, she pretended to think about it, then said: Yes! "I had already come to feel deeply connected with Lebanon, and I saw in this project several opportunities – to draw on my own experience in the arts, to look at the country's modern history from an alternative viewpoint, and to ask less informed readers to reconsider the stereotypes about Lebanon and the Middle East that are unfortunately still so common."
Bibliography
Creative Lives: Portraits of Lebanese Artists, Turning Point, 2009
Links
www.sierraprasada.com